We often prepare Custom Demos, based on our Shareware packages for small Business evaluation. We are happy to liaise and develop a solution tailored for your workflow needs.
eg we were recently approached to evolve a solution for an existing Agency Business that was currently running in Excel but was becoming cumbersome.
Using our existing Core Solutions, we upgraded the Calendars to allow for searching of available personnel for certain dates, this could be used for rooms, properties or almost anything. Although unlimited users and calendars are available, this Case, with an Agency base of say 20 available Calendars, allowed bookings to be made, removed, searched coloured or texted as necessary, and displayed as a pausing screen ( time is adjustable) for an overview if required.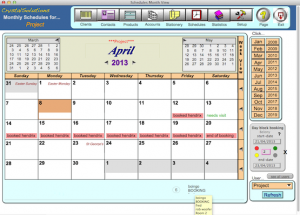 All info is in one place and Accounts and routines can be implemented as required.
By adding an extra tabbed page to our existing Solution, we were able to provide 3 extra custom pages of checkbox and editable drop menu fields (>50) that allow the User to enter new Client information very quickly and then print to pdf the resulting 'snapshot' and custom invoice for attachment to email – all in one.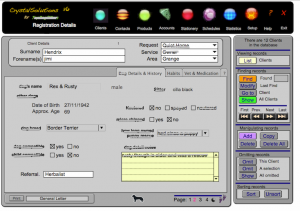 All is searchable by one or many fields so results are fast and can be seen in lists – these can be colour coded as required for future quick finds or action.
The Demo provided was for 50 records and 3 months trial and was free, and the expected cost for unlimited Registration above the standard core price of £68 was about £230-250 including 3 months support.
Extended Annual Support costs just £50. and as the case was local, we could do a site visit walk-through and training, with evolving edits and design discussions by phone and email. Time Taken — under 2 weeks
the solution was installed on Windows 8 but can be implemented on both Windows and Macs as well as iPads. Networking is available by upgrade.